The Moscow Metro is known worldwide for its rich ornaments of various styles ranging from classicism to Soviet realism. Of the 200 stations in the network, 44 are described as "underground palaces" and classified as cultural heritage of Russia.
The idea of building a metro in Moscow was born at the end of the 19th century, but it was not until the 20th century that it came to fruition. In 1930, under the orders of Stalin who wanted the Russian capital to be at the height of the Soviet Union and the communist ideals it represented, the construction was launched and entrusted to Lazare Kaganovich. The subway will also bear the name until 1955 when it will be renamed in honor of Lenin.
Artists and workers have thus been given the task of designing future stations so that each one illustrates the life of the people or is inspired by Soviet literary works. All the stations were obviously not built at the same time and a visit of the Moscow metro allows to discover the history of the country as well as the evolution of the style and the tastes, the socialist realism with its ornaments, the art deco, Rococo or constructivism. Some stations have become famous and almost mythical as "Ploshchad Revoliutsii" with 76 bronze statues and among those one of a dog which each Muscovite caress the muzzle in passing, thus ensuring, as tradition dictates, happiness and success.
The Moscow Metro now has 200 stations and 12 lines with a total length of 333.4 km. Its punctuality reaches almost 100% and the interval between trains at peak times is only 90 seconds. In addition to the renovation of the old roads, a plan for the creation of new lines is underway and in 2020 it will have enabled the construction of 160 km of new tracks, including a new circular line to make traffic flow more fluid. Because of the depth of its stations, the Moscow Metro served as anti-aircraft shelters during World War II. An unconfirmed urban legend claims that there is an even deeper secret subway line created under Stalin that would connect the main headquarters to evacuate the political and military leaders of the city in case of an attack.
Want to discover? Tsar Voyages organizes your visit.
Location Metro on the map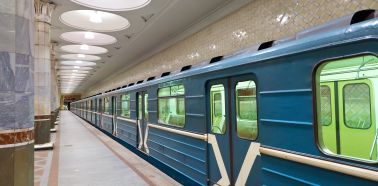 Station de métro
Station de métro Mayakovskaya
Station de métro Ploshad Revolutsi