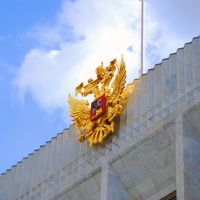 Former residence of the Tsars, the Moscow Kremlin is the largest and most famous fortress in the country. It is an impressive collection of palaces and cathedrals, the oldest dating back to the 16th century and visible from the Red Square.
If the city develops strongly under the impetus of the prince Yuri Dolgorouki, it is in 1331 that Moscow is equipped for the first time with a Kremlin, at the time a simple embankment surmounted by a palisade. Over the centuries that followed, the fortress was destroyed and rebuilt several times. In the fifteenth century, Ivan III, known as "the Terrible", decided to make it an impregnable citadel. Today, the Kremlin's red brick walls are known throughout the world and are listed as UNESCO World Heritage.
The almost triangular fort dominates the center of Moscow and is bordered by the Red Square and Moskva. In its midst, you cannot miss the three famous cathedrals, the gigantic convention center built by the Soviets in the 1960s, and of course the presidential palace whose yellow walls and green and golden roofs never cease to amaze. passers-by.
Political center of the Russian Federation, the Kremlin is the official residence of the president and his main place of work. But above all, the red fortress is a place that never ceases to dream because symbol of the great Russia.
Want to visit the Kremlin? Tsar Voyages invites you to discover the Place des Cathedrales but also the famous Palace of Armor.
Location Kremlin on the map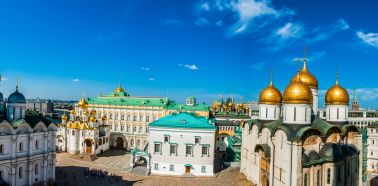 Kremlin cathédrales
Clocher d'Ivan le Grand
Kremlin