Shalyapin Palace Hotel
Stars/Type :
4 stars
With a swimming pool
Description :
Shalyapin Palace Hotel is located in Kazan's historic centre. The building is a both a symbol of history and culture. Ideally located on the Baumanskaya pedestrian street, the hotel is a 10-minute walk away from the Kremlin and close to the main restaurants and museums. The hotel is partly housed in a historic building of the 19th century. All of its windows offer a beautiful view of the street and the surrounding religious buildings (including the Cathedral of Epiphany), and its classically decorated rooms are very comfortable. Its "A capella" restaurant decorated in shades of purple and plum is installed under a pleasant glass roof.
Services :
Conference room
Fitness center
Swimming pool
Laundry service
Lift
Location Shalyapin Palace Hotel on the map
Chaliapine Palace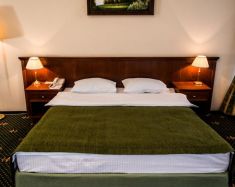 Chaliapine
Chaliapine
Chaliapine
Chaliapine