Ring Premier Hotel
City :
Golden Ring
Yaroslavl
Stars/Type :
4 stars
With a swimming pool
Description :
The Ring Premier Hotel is situated on the main street of Yaroslavl in the Golden Ring. The hotel offers all the European-standard comforts of a four-star hotel. It also has rooms with access for people with reduced mobility. All rooms are equipped with an en-suite bathroom, a telephone, a minibar, free Wi-Fi, satellite TV, air conditioning, and an in-room safe.
Services :
Restaurant
Fitness center
Hairdressing salon
Spa
Souvenir shop
Location Ring Premier Hotel on the map
Ring Premier Hotel
Ring Premier Hotel
Tsar Voyages est le spécialiste des voyages en Russie. Circuit, Croisières, transsibériens, visas…Découvrez la Russie dans les meilleures conditions.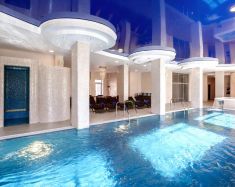 Ring Premier Hotel
Ring Premier Hotel