Nogai
Stars/Type :
3 stars
With a swimming pool
Description :
Built in 1937 to accommodate publishers and writers of the region, the Nogai is considered to be a historical monument. The hotel owes its name to the Nogai horde, which lived in Tatarstan during the Middle Ages. It is known for its constructivist style, a period of the Russian architecture which valued the functional character of buildings.
Opened in 2015, the hotel offers elegant and comfortable rooms, with a beautiful bathroom. It has two nice restaurants and a beer garden, as well as an ccess to SPA and swimming pool area at extra costs. Its perfect location, on the pedestrian Bauman Avenue, makes the Nogai the best 3-star hotel in the city.
Services :
Restaurant
Bar
Conference room
Fitness center
Swimming pool
Massage parlor
Spa
Location Nogai on the map
Hotel Nogaï
Hôtel Nogaï
Hôtel Nogaï
Hôtel Nogaï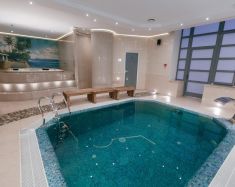 Hôtel Nogaï