Metropol
Stars/Type :
5 stars
With a swimming pool
Description :
The famous Metropol Hotel, emblematic of the Art Nouveau style and classified as a historical monument, is located in the city centre. It is located opposite the Bolshoi and a 3-minute walk from the Kremlin. Partially redecorated and renovated in 2017, the rooms are elegant, well equipped and bright, the classic rooms are spacious, very comfortable and decorated in an art nouveau style.
The hotel has a dining room, a bar and a new beauty salon.
Breakfast, varied and succulent, of exceptional quality, offers caviar crepes and exotic fruits and is served in the hall, around a fountain, overhung by an impressive glass roof and accompanied by a musician playin on the piano or harp. The restaurant "Savva" is run by an Estonian chef, who was awarded in 2018, he offers an authors cuisine, refined in the modern Russian taste. The remarkably decorated Shalyapin bar is the ideal meeting place where guests can enjoy cocktails.
The hotel has a relaxation are with a sauna.
Services :
24-hour reception
Restaurant
Bar
Conference room
Satellite TV
Location Metropol on the map
Metropol
Metropol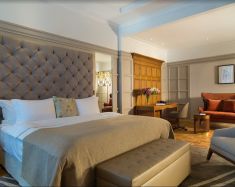 Metropol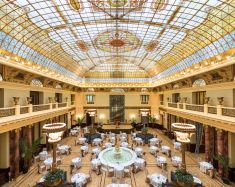 Metropol Restaurant
Metropol