Azimut Nizhny Novgorod
Description :
The Azimut Hotel of Nizhy Novgorod is located next to the Oka river. Some of its rooms have a nice view on the largest tributary of the Volga.
Each room is nicely decorated with carpeted floors and classic furniture. The breakfast buffet has many choices. Free Newspapers are also provided. It is also possible to have lunch and dinner at the restaurant, however good restaurant of European and Russian cuisine are located within walking distance.
The hotel is well located, with a tram station within walking distance and the train station 10 minutes away by car.
Services :
Pets allowed
Restaurant
Bar
Conference room
Fitness center
Children (with their parents) under 12 staying for free
Location Azimut Nizhny Novgorod on the map
Hôtel Azimut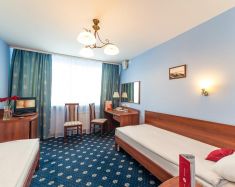 Hôtel Azimut
Hôtel Azimut
Hôtel Azimut
Hôtel Azimut